Hints
TopN pairs well with the Donut Chart as a Chart Type.

If you're interested in the number of users per - for example - system version instead of the number of signals, enable the unique by user option in Signal Type.
Filters
Filters consist of a key and a value. If any filters are entered for an insight, the insight will only count signals with that key-value pair in their metadata payload. All filters must apply for a signal to be counted if multiple filters are specified.
If, for example, you use the same code base for the iOS and macOS versions of your app, but you want a breakdown of only iOS signals, add a filter of platform: iOS to your insight.
Generated Query
You can optionally convert your insight into a "custom query insight". This allows you to edit the database query in the insight directly, giving you more control.
A custom query is a JSON object in the TelemetryDeck Query Language (TQL), a superset of the Druid Query Language. See the Druid Query Documentation for a jump start. In addition to the Druid features, custom queries in the TelemetryDeck Query Language can contain a relative time interval.
During execution, we will automatically wrap your query in a filter that makes it apply to all your organization's apps. To query a single app, filter for that app's app ID.
Chart Types
No matter the data you want to get insight into, there is always a chart type that fits best. Deciding which of these different chart types works well with the kind of data you want to process can be tricky. We will explain how the different display types work, making it easy for you to decide which fits your needs! Chart Types can be one of these options:
---

Table
It will display the query result as a raw list of numbers. If the query results in a time series, this will give you a list of dates and the numbers associated with those dates. If the query is a breakdown, this will provide you with a key-value list, such as the number of users per device type.
If only one line of data is returned, that line will be displayed in large type. If exactly two rows of data are returned, the first one will be displayed in large type and the second one smaller below that, with the percentage difference between the two numbers. This allows you to have a "Active Users this Month" type of display, with a comparison to the previous month.
---

Bar Chart
It displays the query result as a vertical bar chart, one bar per line of data. This works for both time series data and other types, such as breakdowns.
---

Line Chart
This chart shows the query result as a line chart, one bar per line of data. This works best for time-series data. Displaying other data doesn't make a lot of sense in this chart type.
---

Donut Chart
A pie/donut type chart that will sort the rows of data by number and visually show their percentage of the whole.
---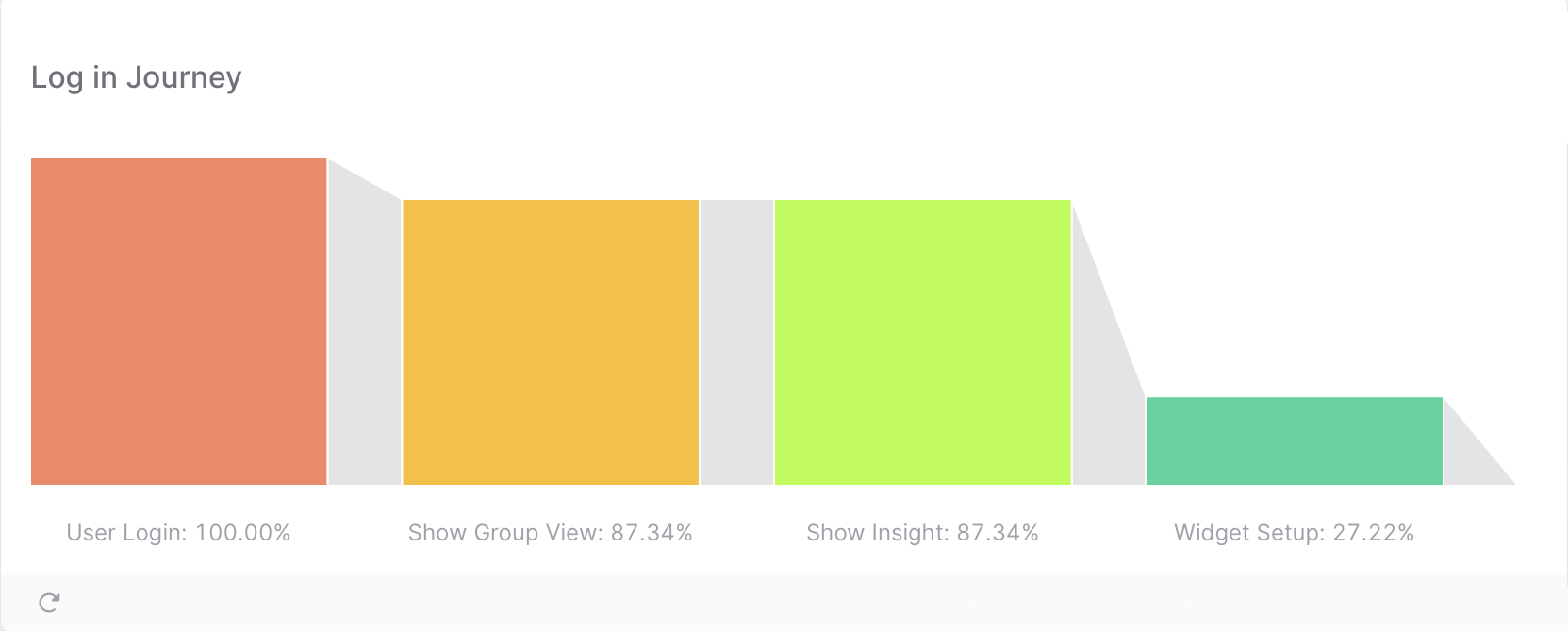 Funnel Chart
In combination with the filter editor, this chart displays when a user ends a process within your app - breaking it down into visual steps that show exactly how many users stayed in a process.